A Simple Rubber Stripper For Catapult Glider Bands
Curt Stevens' Old Fashioned 1950's Rubber Stripper
View Plans
In an attempt to document some history and to also make available an inexpensive rubber stripper, Curt and I decided to put a little work into this project. Curt fixed up an old 1950's rubber stripper of his and sent it to me. I agreed to make some drawings of the design. I tried out this stripper and was amazed on how well it actually stripped rubber. It takes a lot of effort to setup and the cut is not as good as the modern rubber strippers available today, but it is able to do the job.
The stripper Curt sent me was made of plastic, and he tells me that all the other strippers he saw were made of about 1/4" sheet balsa and 1/8" plywood. To operate the rubber stripper; hold it in left hand with thumb on front end of blade pressing it down into the rubber and pull the strip thru the cutter with right hand, pull straight, slow, and uniform for best results. To change the width of cut you need to adjust the number of washers or shims between the razor blade and the side flange.
Note how the wedge is used to hold things in place, with this type of wedge you can cut a wide strip of rubber into about a 25-75 split. Basically you can not just cut the size you need but must plan ahead and always try to plan ahead 2 or 3 cuts ahead so as to end up with something close to what you suspect you will need.
Curt tells me, before the modern rubber strippers most people did most of their rubber cutting at home and packaged up baggies of each size rubber. He also indicated that this type of rubber stripper existed for years with little success until a guy named Jack Block came up with the wedge which all of a sudden made it a useable tool. This stripper takes some getting used to but it will cut good motors. Curt has personally cut .040 thick rubber into .020 wide strips. Even the rubber for Joe Foster's class A ROG record was cut with one of these.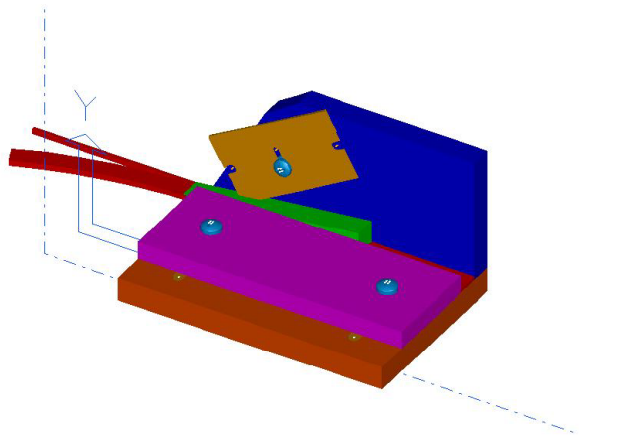 This stripper also works for cutting balsa. For balsa cutting you would need to make the baseplate/side flange about 8-12 long with the rubber cutting part at one end. Then out in the center of the unit you install a double edge blade but this time using two screws. Same washer adjustment system but you do not need the width guide, just hold the cutter in left hand and slide the sheet of wood along the stripper. This will cut very good straight wood down to about .020 thick, below that you will once again need the wedge. A single edge blade is too thick and messes up the wood.